You Got Braces! Now What?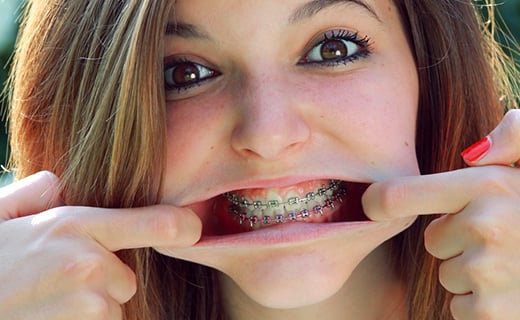 You just got braces! What can you eat? How will you floss your teeth? How do you keep your retainer clean? Caring for braces, appliances, and retainers is often a complex task—it's not easy keeping up with all the "new" rules of dental care when you get braces. Your family orthodontics professionals will undoubtedly give you detailed instructions and even recommend a few tools for keeping your braces clean and working properly, but sometimes it can also help to have a short list of the important things to remember. Use this guide to make caring for your braces easier.
Brushing with Braces
Routine brushing is imperative to optimal dental health, with or without braces. With braces, you should brush after every meal and rinse with mouthwash. Food can easily get trapped in your braces and appliances, increasing the risk for infection without diligent dental care.
Eating with Braces
The first few days with braces tends to be a little tough on your mouth, making eating a bit uncomfortable. Consider eating only soft foods for several days. As you feel more comfortable with your new orthodontics, you can add back in basic foods. However, one of the hardest things about new braces is remembering all the things you can no longereat. You will need to avoid sticky or chewy foods, things with lots of seeds or kernels, and hard or tough foods. Be careful if you aren't sure about a particular food—and always err in favor of protecting your braces when you eat.
Food to Avoid:
Corn on the cob
Hard pretzels
Popcorn
Nuts
Carrots
Hard or tough-to-bite foods, like apples or bagels
Chewy foods, such as taffy or caramels
Chewing gum
Do not chew ice
Care of Orthodontic Appliances
Your orthodontist will give you detailed instructions on caring for your specific orthodontic appliances. Caring for your orthodontics is essential to the success of your treatment. Damaged appliances lengthen the treatment time.
Soreness with Braces
It's normal to have soreness when you first get your braces or after a routine tightening. The pain may feel like pressure or a soreness of the mouth over the course of several days. Gargling or rinsing your mouth with warm salt water can help alleviate some pain. You may also find over-the-counter pain relievers helpful, such as aspirin, ibuprofen, or acetaminophen. Be aware that your lips, cheeks, and tongue may also become irritated while your mouth gets used to the rubbing of your braces. Your family orthodontics experts will give you a special wax to use as necessary to reduce rubbing.
To get the dental care you deserve from an affordable dentist in Peoria, call Maple Shade Dental Group today or make an appointment.
---
Maple Shade Dental Group offers affordable family dentistry and gentle, compassionate dental care in Peoria. With 3 affiliated practices throughout Peoria, our offices are conveniently located with extended hours to meet your needs. At Maple Shade Dental Group, we provide most dental services, from basic preventative care and general dentistry to specialized procedures and complete dental reconstruction. We accept most dental insurance plans and offer affordable financial solutions for any budget. Patient satisfaction is our top priority and we strive to provide the exceptional, affordable dental care and personal touch that lead to lasting relationships. A smiling patient is our greatest reward and we look forward to keeping those smiles healthy, beautiful, and bright. Discover an affordable dentist who truly cares at Maple Shade Dental Group.