Posted under:
General
Posted on: January 21, 2023
Why You Can Trust Your Oral Health to Maple Shade Dental Group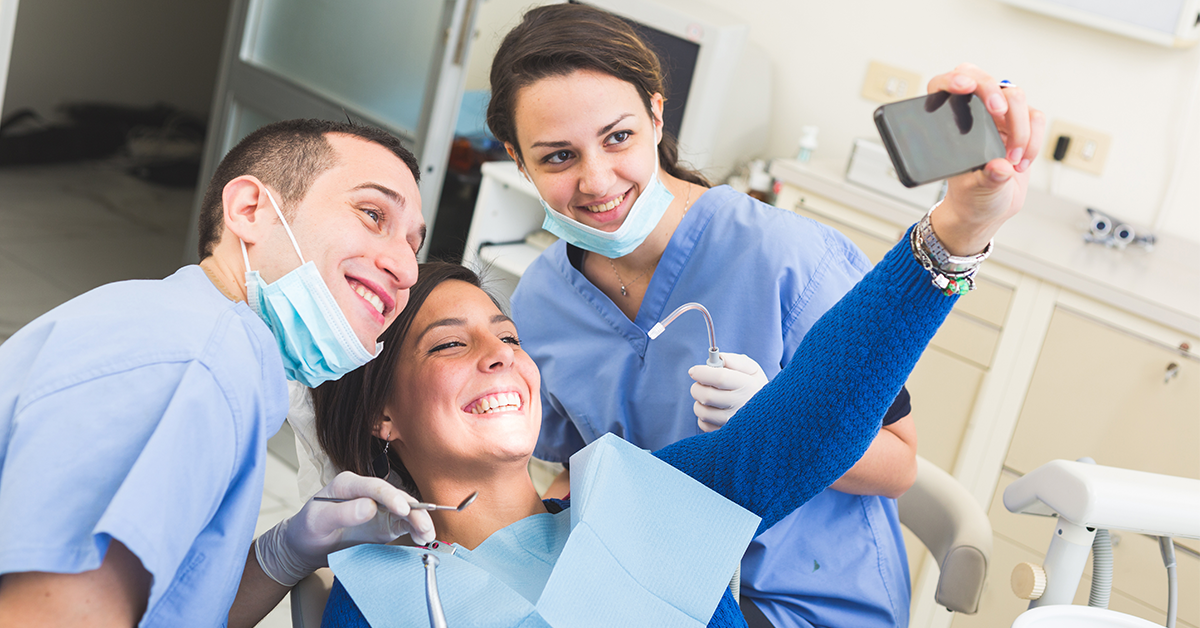 Dental health is a critical component of your overall, total health. Oral issues left untreated can develop into pain, infection and other symptoms; ultimately, they could even lead to the loss of teeth.
Even if you practice good preventative oral care at home through regular brushing and flossing, you still need to see a dentist once or twice a year to ensure total oral health. At these appointments, your dentist or dental hygienist will give your teeth a thorough, professional cleaning, and your dentist will closely examine your teeth, gums and mouth for any signs of potential damage or disease. You have only yourself to trust to practice good oral hygiene at home; but, when it comes to getting proper professional dental care and treatment, you need to see a dentist you trust to provide it right.
At our dental office in Peoria, we believe that the only reason some people dread visiting the dentist is because they haven't yet found the right dentist. That's where we come in.
Here are some of the key qualities that make us the last dental office in Peoria that you will ever need.
Stellar Staff
At Maple Shade Dental Group, you won't just find excellent dentists; you'll also find excellent dental hygienists, dental assistants, receptionists and other staff. Our whole team is handpicked and highly trained to provide you not just with the highest levels of dental service but of customer service as well. You can tell how great our staff are by how happy they are. Our staff love their jobs because they love serving patients with impeccable attention, compassion and care and because they work in an environment where they know everyone present on both sides of the counter are treated with dignity and respect. Every member of our team knows not only how to make you feel welcomed in our office but informed and educated about your dental health and care as well.
Inviting Office
Both the waiting room and exam rooms as well as the office spaces where our administrative staff work are all clean, organized and orderly. A messy office will not give you the same confidence in the quality of care that a well-kept office will, because an office well kept reflects a team who take the work they perform seriously and care deeply about the people for whom they perform it. We practice conscientious disinfection and sterilization procedures that go above and beyond the standard.
Dental Anxiety Care
Many patients experience some degree of dental anxiety whenever they visit a dental office. We recognize and understand that, and do everything in our power to help alleviate that anxiety so you can feel safe coming in for the care you need and feel as comfortable as possible while receiving it. We start it off with a friendly and welcoming atmosphere that naturally induces feelings of calm, safety, comfort and relaxation. From there, your dentist will apply the necessary precautions to put your mind and nerves at ease, such as mild sedation dentistry, communicating with you about every step of the exam and procedures and checking in regularly throughout to make sure you're still feeling okay. Only in these ways can we trust that you'll return again and again to keep getting the dental care you deserve.
Professionalism
As important as demonstrating compassion and empathy in treating our patients is demonstrating a level of professionalism that helps make our patients feel they can trust us. Our dentists conduct themselves with a dexterous balance of professionalism and humanity, from how they dress to how they speak to you. A professional dentist knows how to treat each individual patient according to their unique, individual personalities and needs.
Affordability
Healthy teeth shouldn't cost an arm and a leg. Dental services should be affordable, so you can get the care you need when you need it and not only when you think you can afford it. We do our best to make sure you never have to choose between eating or paying a bill and getting the proper dental care you need. We accept many dental insurance plans, and we work closely with patients where insurance is unavailable or falls short to find ways to make treatment still affordable. We'll even arrange some sort of a payment plan with you if you can't cover the total cost of care up front.
Technology
The science of dentistry is advancing all the time, which requires dental technology to keep pace. The dental equipment of a decade or more ago–the very equipment you'll find in so many dentists' offices–is no longer capable of providing the full level of care and treatment available to patients in the modern day. At our dental office in Peoria, we serve our patients with only the latest and most advanced tools and technologies in modern dentistry.
Comprehensive Care
There's no reason you should have to visit different dental offices to receive different types of dental care. At our dental office in Peoria, you can receive both preventative and restorative dental care as well as cosmetic dentistry when desired and even orthodontic care when required. We also provide pediatric dentistry services to help you make sure all the members of your family have healthy teeth and mouths.
The Last Dentist in Peoria That You Will Ever Need
At Maple Shade Dental Group, we think of each of our patients as a member of our extended family, which is why we trust that, from the moment you contact us to schedule your first dental appointment, you'll discover that you've just found the dentist in Peoria that you've been searching for, one that will partner with you in achieving top oral health and holding onto it for life. So, call us today to get started on your road to top oral wellness.