Tips for preventing receding gums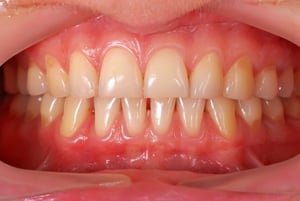 While undoubtedly unsightly, there are reasons to be worried about a receding gum line apart from how it looks. According to a recent report from Hive Health Media, the spaces that develop between the gums and where they would normally cover up the bottoms of teeth can become a significant hazard for bacterial development. Like many dental diseases, it's possible that a receding gum line could lead to full blown tooth loss if it goes untreated for too long. Dental surgery may be required to solve a problem eventually, but there are numerous steps a person could take to avoid ever making that necessary.
Florida Today pointed out that receding gums may be of particular concern to senior citizens, due to the "mechanical stresses" that catch up to the teeth of older individuals. The source points out that firm tissue surrounding the gums is much preferable to have there than softer, more malleable red tissue couching the ends of teeth. The latter situation may be a likely sign that gum recession has begun.
Most of the advice offered by Hive Health Media for preventing receding gums could just as easily apply to other dental health concerns – which certainly do not mean that it isn't great advice. Regular and thorough brushing may go a long way to keep gums where they're supposed to be, as could flossing regularly and refraining from tobacco use. While seniors may be at high risk for gum recession, the source offers a bit of advice that may be of more interest to younger folks – tongue and lip piercings, it claims, may expedite the process of gum recession.
Treating gum recession
But there are factors other than poor general dental hygiene that may be contribute to gun recession. For example, Smithtown Smiles points out that brushing too often could bring about the same condition. Teeth aren't made of iron, after all, and excessive brushing could eventually wear the bone down. One of the direct causes of receding gums is the bones are becoming thinner than they once were.
One method for reversing receding gums involves implant dentists replacing lost gum tissue with a new surrogate substance; however Smithtown Smiles strongly recommends interested readers ask their local dentist for his or her thoughts before undergoing such a procedure. Dentists would have the expertise to make a distinction between cosmetic dental work and surgery that would be beneficial for their patients' teeth.
To learn about our family dentistry practice in Peoria, call Maple Shade Dental Group today or make an appointment.
---
Maple Shade Dental Group offers affordable family dentistry and gentle, compassionate dental care in Peoria. With 3 affiliated practices throughout Peoria, our offices are conveniently located with extended hours to meet your needs. At Maple Shade Dental Group, we provide most dental services, from basic preventative care and general dentistry to specialized procedures and complete dental reconstruction. We accept most dental insurance plans and offer affordable financial solutions for any budget. Patient satisfaction is our top priority and we strive to provide the exceptional, affordable dental care and personal touch that lead to lasting relationships. A smiling patient is our greatest reward and we look forward to keeping those smiles healthy, beautiful, and bright. Discover an affordable dentist who truly cares at Maple Shade Dental Group.