The Way You Brush Can Save Your Smile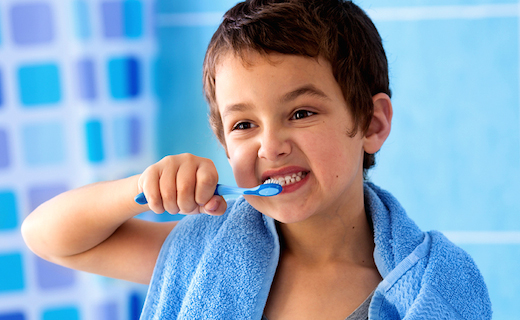 Practicing good dental hygiene is essential for ensuring great dental health and general well-being. A high level of dental plaque causes tooth decay, cavities, and gum disease. In recent years, researchers have discovered that poor dental health is linked to other health problems like diabetes and cardiovascular disease. The way you brush plays a huge part in reducing your risks for early tooth loss and serious health problems. You probably know that you should brush twice a day with a soft-bristled toothbrush, but there are many other ways improve your dental care and protect your health.
Brushing: Take Your Time
Great dental hygiene for kids and adults starts with brushing long enough to remove plaque from every tooth surface. The process of brushing your teeth should take two full minutes. Although this may not seem very long, if you don't time yourself, it's easy to stop too early. A British study revealed that one in three adults failed to meet their two-minute brushing goals. Using a timer or mentally counting seconds can help. It's also important to see exactly where your toothbrush is going. Watching yourself brush in the mirror can ensure that you thoroughly clean every tooth, including hard-to-reach ones like back molars. Keeping an eye on your teeth also helps you recognize problems like bleeding gums, wear-and-tear damage, or tooth decay before they become serious.
Check Your Technique
Although teeth appear strong, they are made up of delicate structures, so always brush gently. Hold your toothbrush at a 45-degree angle, and brush using small, circular motions. Clean the front and back surfaces of your upper teeth first, and then move to the lower teeth. Pay special attention to your gum line, and brush your tongue to freshen your breath. Be sure that your toothpaste and other dental care products meet your needs. For example, if you have sensitive teeth, you should avoid tooth-whitening products that contain harsh abrasives. In addition to a great oral hygiene routine, professional dental care is essential for keeping your mouth in top shape. Make regular visits with an affordable dentist part of your lifelong dental care plan.
To learn about our family dentistry practice in Peoria, call Maple Shade Dental Group today or make an appointment.
---
Maple Shade Dental Group offers affordable family dentistry and gentle, compassionate dental care in Peoria. With 3 affiliated practices throughout Peoria, our offices are conveniently located with extended hours to meet your needs. At Maple Shade Dental Group, we provide most dental services, from basic preventative care and general dentistry to specialized procedures and complete dental reconstruction. We accept most dental insurance plans and offer affordable financial solutions for any budget. Patient satisfaction is our top priority and we strive to provide the exceptional, affordable dental care and personal touch that lead to lasting relationships. A smiling patient is our greatest reward and we look forward to keeping those smiles healthy, beautiful, and bright. Discover an affordable dentist who truly cares at Maple Shade Dental Group.