Posted under:
General
Posted on: May 14, 2013
The most memorable dentists in cinema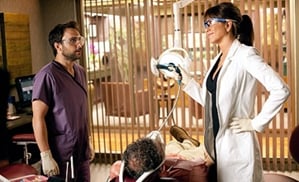 Film stars probably get to know their dentists pretty well. When you make a living off the pearly glow of your teeth, chances are you spend quite a bit of time in that reclining chair with a oral care expert poking around in your mouth and giving everything a minty scrub. But while the dentist is most certainly wondering what's going on in that celebrity's head – after all, that's what magazines like People and Us rake in their cash on – do you think the actors and actresses are ever wondering the same of their dentist? While the stars of the big screen spend plenty of time entering the heads of famous historical figures and vibrant characters, every so often they're called upon to play that most humble of medical professions: the dentist. And when they do, it tends to be pretty memorable.
Curious about who some of these most famous actors are and what exactly they've offered to the history of cinema? Consider this list of larger-than-life dentists and the thespians who brought them to life!
Dr. Julia Harris, as played by Jennifer Aniston in "Horrible Bosses"
This star-studded comedy featured great performances all around, but it's hard to deny Jennifer Aniston's deranged charm as a blackmailing dentist with absolutely no personal boundaries. Her repartee with Charlie Day, who plays her dental assistant, is spot on and bawdy as you'd expect from this sort of movie's milieu.
The Dentist Assistant, as played by Charlie Chaplin in "Laughing Gas"
A significantly more tame comedy than the 2011 film above, "Laughing Gas" (1914) is a Charlie Chaplin film through-and-through, featuring all the comedy of errors and slapstick you'd expect from The Tramp himself. Though, technically, Chaplin himself doesn't play the dentist in the film, but rather an assistant forced into having to play a professional. As you can imagine, things do not go well, and hilarious trouble ensues.
Dana and David Hurst, as played by Hope Davis and Campbell Scott in "The Secret Lives of Dentists"
What if a film director decided to take a literary novella from a respected author and turned it into a critically acclaimed 2002 indie film starring two excellent actors at the top of their game? Well, so long as they're two married dentists, it's guaranteed to be a blast. Hope Davis and Campbell Scott play a couple who share a dental practice and three daughters in upstate New York. But all that's threatened by an incidence of adultery – and a touch of the flu.
Doc Holliday, as played by Kirk Douglas in "Gunfight at the OK Corral"
Chances are, Doc Holliday is the most famous American dentist ever. Although he's garnered more renown for his skills as an Old West gunfighter. While other actors have taken it upon them to portray this larger-than-life historical figure (including Val Kilmer in "Tombstone"), Kirk Douglas is still the definitive portrayal according to film critics and dentists alike. "Gunfight at the OK Corral" (1957) took home a pair of Academy Awards, but is best remembered for its dramatic retelling of the famous gunfight between Wyatt Earp (Burt Lancaster) and a group of outlaw cowboys. Douglas' iconic cleft chin and speedy six-shooters were more important to the film than Holliday's D.D.S. degree, but it's nice to see a dentist in the role of Old West hero, nonetheless!
Orin Scrivello, as played by Steve Martin in "Little Shop of Horrors"
On the other side of the spectrum from Doc Holliday lies Steve Martin's infamous Orin Scrivello from the 1986 musical adaptation of the cult classic "Little Shop of Horrors." Martin's portrayal is probably best remembered for it's darkly comic turns (and the laughing gas addiction), but he wasn't the first actor to take up the role. The 1960 original film didn't have the all-star cast or the musical numbers, but more curiously it did feature on the first film roles of Jack Nicholson. The famous American actor plays a patient who goes to visit the film's dentist (here played by John Shaner). Those familiar with Nicholson won't be surprised to find he plays one of the creepiest and weirdest characters to ever settle into the dentist's chair.
Dr. Christian Szell, as played by Laurence Olivier in "Marathon Man"
For better or worse, one of the most famous depictions of the dental profession is also one of the most nerve-wracking moments in cinema. At least they got the 20th century's most respected and acclaimed actor to play the part. Sir Laurence Olivier, who made his name acting and directing his way through the entirety of Shakespeare to monumental acclaim, takes up the role of Dr. Christian Szell, a German dentist with a very dark past. When a history Ph.D. student played by a young Dustin Hoffman gets mixed up in some international intrigue, the tension turns up to 11. For those have seen 1976's "Marathon Man," the iconic phrase "Is it safe?" alone is enough to cause a toothache.
To learn about our family dentistry practice in Peoria, call Maple Shade Dental Group today or make an appointment.
---
Maple Shade Dental Group offers affordable family dentistry and gentle, compassionate dental care in Peoria. With 3 affiliated practices throughout Peoria, our offices are conveniently located with extended hours to meet your needs. At Maple Shade Dental Group, we provide most dental services, from basic preventative care and general dentistry to specialized procedures and complete dental reconstruction. We accept most dental insurance plans and offer affordable financial solutions for any budget. Patient satisfaction is our top priority and we strive to provide the exceptional, affordable dental care and personal touch that lead to lasting relationships. A smiling patient is our greatest reward and we look forward to keeping those smiles healthy, beautiful, and bright. Discover an affordable dentist who truly cares at Maple Shade Dental Group.