The Importance of Caring for the Baby Teeth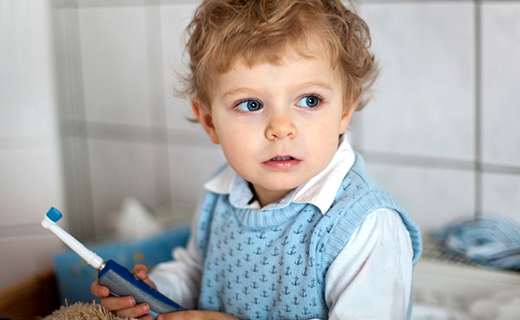 The baby teeth are often considered a rite of passage for children. It is a difficult lesson in parenting as the teeth emerge and a cause for celebration when they fall out to be replaced by adult teeth. And, since those baby teeth represent little more than a timeline for hassles over good oral care, it's easy to think dental care for baby teeth simply doesn't matter. However, it's not just the force of habit that makes teaching your child to brush their teeth important during the early years. The baby teeth may only be temporary, but the surrounding tissue is forever. Teach your children about the importance of proper dental care and routine visits to a family dentistry professional from the moment their first tooth emerges.
Children typically experience the eruption of their first baby tooth around six months of age. Typically, the two bottom central incisors erupt first, followed by the top four front teeth. As time moves forward, the other teeth fill in, in pairs, one each for the upper, lower, left, and right sides of the mouth. Twenty teeth in total complete the set, in most cases by the age of 2½ to 3 years of age and remain in place until 6 or 7 years old.
The chart below shows the general timeline of when a child's baby teeth (also known as primary teeth) will emerge and eventually be lost. Remember, this is an average—the emergence of baby teeth varies among children.
Primary Teeth Development Chart
Emergence
Shedding
Upper Teeth
Central incisor
8 to 12 months
6 to 7 yrs
Lateral incisor
9 to 13 months
7 to 8 yrs
Canine (cuspid)
16 to 22 months
10 to 12 yrs
First molar
13 to 19 months
9 to 11 yrs
Second molar
25 to 33 months
10 to 12 yrs
Lower Teeth
Second molar
23 to 31 months
10 to 12 yrs
First molar
14 to 18 months
9 to 11 yrs
Canine (cuspid)
17 to 23 months
9 to 12 yrs
Lateral incisor
10 to 16 months
7 to 8 yrs
Central incisor
6 to 10 months
6 to 7 yrs
Baby Teeth Facts
To estimate a timeline for eruption of your baby's teeth, calculate the emergence of 4 teeth for every 6 months of life.
Most girls will experience tooth eruption earlier than boys.
Lower teeth often emerge first.
Teeth typically erupt in pairs—one on the left and one on the right.
Primary teeth are whiter in color than secondary teeth.
At around 2 to 3 years of age, all the teeth should have emerged and the growth of the jaw and facial bones begins to take place. At age 4, spaces are created between the primary teeth to make way for the larger, permanent teeth that will ultimately emerge. From age 6 until age 12, both baby teeth and adult teeth will comprise your child's smile.
Why Baby Teeth Should Be Cared For
The baby teeth reserve space for the adult teeth.
The primary teeth shape the face of your child.
The baby teeth play a vital role in the development of your child's speech patterns.
Missing or decayed teeth make it difficult to chew and may cause your child to reject food, impairing consumption of vital nutrients.
Decayed or infected baby teeth can lead to damage in the secondary teeth, making proper dental care and regular visits to an affordable dentist vital to future oral health.
To get the dental care you deserve from an affordable dentist in Peoria, call Maple Shade Dental Group today or make an appointment.
---
Maple Shade Dental Group offers affordable family dentistry and gentle, compassionate dental care in Peoria. With 3 affiliated practices throughout Peoria, our offices are conveniently located with extended hours to meet your needs. At Maple Shade Dental Group, we provide most dental services, from basic preventative care and general dentistry to specialized procedures and complete dental reconstruction. We accept most dental insurance plans and offer affordable financial solutions for any budget. Patient satisfaction is our top priority and we strive to provide the exceptional, affordable dental care and personal touch that lead to lasting relationships. A smiling patient is our greatest reward and we look forward to keeping those smiles healthy, beautiful, and bright. Discover an affordable dentist who truly cares at Maple Shade Dental Group.