The Beauty and Success of Dental Implants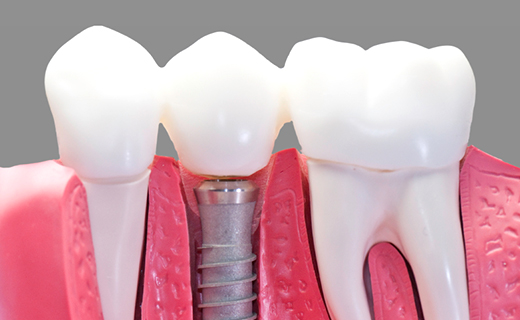 Dental implants are among the most successful surgeries performed. The advent of dental implants dates back more than 20 years with data reports showing that even the earliest implants of most patients are intact and functioning at peak performance. With proper care, dental implants are not only the most natural-looking option for replacing missing teeth, they can also last a lifetime—making the dental implants cost a worthy investment in your oral health and appearance. However, to determine if dental implants are the best solution for your dental care, you will need to understand what factors impact the procedure and outcomes, as well as pre and post care and recovery.
Dental implants are artificial structures designed to perfectly replicate a natural tooth. Implants can provide support for dentures or partials or as a stand-alone replacement for an individual tooth. Dental implants are made from titanium alloys that are biocompatible—meaning they won't be rejected by the body. Over time, the implant integrates with the bone of the jaw, further improving stability and function of the tooth. Unlike dentures and partials, dental implants protect the loss of the jawbone that typically occurs when teeth are lost. This makes dental implants ideal for protecting the shape and density of the jawbone as time passes.
There are a variety of reasons that dental implants may be the most suitable option for you. Whether you have experienced tooth loss due to an accident or disease, dental implants can be an effective solution. Ideal candidates for dental implants are in good physical health and also have generally good oral health. Certain medications and chronic disease may inhibit the long-term success of the procedure. It is important to consider all your options, including dental implants cost, and discuss what will work best for your particular situation with your dental care professional in Peoria.
Following the loss or removal of your tooth, your dental care professional will implant an anchor and post in your jawbone. The anchor acts as the root of the tooth and is the point from which the root extends and the new tooth is attached. Over the course of three to six months, your dentist will monitor the growth of the bone around the anchor. Once the anchor is appropriately integrated, your dentist will cement the crown, or artificial tooth, into place.
After surgery, your dental care specialist will provide you with detailed instructions for caring for your new implants. These may include eating only soft foods for a specified period of time and taking medications to minimize pain and discomfort.
Implants are permanent fixtures and do not require the additional care associated with dentures and partials. However, just like your natural teeth, routine flossing and brushing are imperative to lifelong maintenance. Disease may still occur if bacteria build-up occurs on implants.
To get the dental care you deserve from an affordable dentist in Peoria, call Maple Shade Dental Group today or make an appointment.
---
Maple Shade Dental Group offers affordable family dentistry and gentle, compassionate dental care in Peoria. With 3 affiliated practices throughout Peoria, our offices are conveniently located with extended hours to meet your needs. At Maple Shade Dental Group, we provide most dental services, from basic preventative care and general dentistry to specialized procedures and complete dental reconstruction. We accept most dental insurance plans and offer affordable financial solutions for any budget. Patient satisfaction is our top priority and we strive to provide the exceptional, affordable dental care and personal touch that lead to lasting relationships. A smiling patient is our greatest reward and we look forward to keeping those smiles healthy, beautiful, and bright. Discover an affordable dentist who truly cares at Maple Shade Dental Group.