Should you get a dental implant?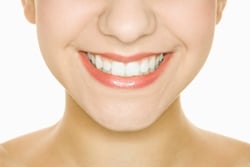 Are you missing teeth? If so, then you are not alone. More than 35 million Americans don't have any teeth, and 178 million are missing at least one tooth, according to the American College of Prosthodontics. No one wants to smile and show gaps between their teeth, which is why many people wear full or partial dentures to improve their smile. While dentures are a good option for some individuals, there is another, more permanent option – dental implants.
While dentures are fake teeth that are held in the mouth by an adhesive and have to be removed every night, a dental implant is an artificial tooth root that is placed into the jaw to hold a an artificial tooth in the mouth permanently. While they can be pricier than dentures, they can be more effective and natural looking and feeling. Dentures may slip, feel uncomfortable or have an embarrassing clicking sound. Even worse, partial dentures can affect any healthy teeth nearby or even cause bone loss in the jaw. Clearly, dental implants may be the better option
Are implants for you?
Unfortunately, dental implants are not for everyone. An ideal candidate is someone who is in good oral and general health, does not have gum disease and has adequate bone in their jaw to support the implant. Many older people not only have gum disease but have also experienced bone loss due to missing teeth. This bone loss can make it difficult for the implant to take it's proper place in the mouth, so if you've had major dental health problems over the years then dental implants may not work for you.
Also, implants are more expensive than dentures. According to the New York Times, the amount it costs to replace a single tooth can range between $3,000 and $4,000, while a full or partial set can cost as much as $20,000 to $45,000. A full set of dentures costs about $2,500, but they may interfere with how you speak, chew, swallow and even your sense of taste, unlike implants which will act virtually the same as regular teeth.
What types of implants are there?
There are two different types of implants. The first is called endosteal, which means in the bone, and is by far the most common type. When you get this type of implant then you have screws, cylinders or blades surgically placed into the jawbone and each one holds an artificial tooth that is meant to stay in place.
The second type of implant is called subperiosteal, which means on the bone. These implants are placed on top of the jaw using metal framework, and are meant for people who cannot wear conventional dentures, or who have less bone in their jaw. However, these are less commonly done then endosteal implants, since many people who may think they can have subperiosteal implants are not candidates for implants at all due to substantial bones loss.
What happens after surgery?
After you have had an implant put in place, it may take some getting used to. There will be a healing process, and during that time your teeth will be adjusting to having the implant in place. You're also waiting for the jawbone to heal around the metal post or screw that is inside your mouth so the implant can become a permanent part of your mouth. It could take up to four months before your mouth feels completely normal again. However, it will all be worth it in the long run when you are able to chew and speak as well as you could before losing a tooth.
To learn about our family dentistry practice in Peoria, call Maple Shade Dental Group today or make an appointment.
---
Maple Shade Dental Group offers affordable family dentistry and gentle, compassionate dental care in Peoria. With 3 affiliated practices throughout Peoria, our offices are conveniently located with extended hours to meet your needs. At Maple Shade Dental Group, we provide most dental services, from basic preventative care and general dentistry to specialized procedures and complete dental reconstruction. We accept most dental insurance plans and offer affordable financial solutions for any budget. Patient satisfaction is our top priority and we strive to provide the exceptional, affordable dental care and personal touch that lead to lasting relationships. A smiling patient is our greatest reward and we look forward to keeping those smiles healthy, beautiful, and bright. Discover an affordable dentist who truly cares at Maple Shade Dental Group.