Posted under:
General
Posted on: December 23, 2014
Make Wise Decisions About Impacted Wisdom Teeth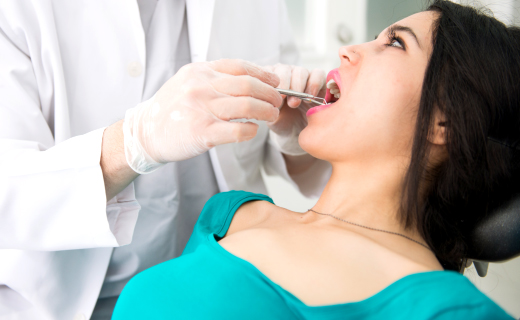 If your wisdom teeth don't erupt normally, they might be impacted; impaction occurs if there isn't enough room in your mouth for the teeth to fit, and they become trapped beneath gum tissues inside your jaw. Symptoms like pain and swelling may indicate that your tooth cannot grow in properly. If you don't deal with impacted wisdom teeth quickly, more serious damage can occur. Only your dentist can verify that your tooth is impacted and recommend the best course of treatment.
Researchers believe that wisdom teeth are left over from our ancient ancestors and that modern eating habits have made them obsolete. Because our ancestors had larger jawbones, their third molars came in with no problem. Our modern bone structure makes it more difficult; there's simply not enough room for wisdom teeth in the oral cavity.
While some wisdom teeth emerge normally and no treatment is needed, impacted teeth can cause periodontitis, cysts, tumors, and serious infections that can spread to the bone, neck, and surrounding areas. They can also cause other teeth to shift. Impacted teeth can even increase your risk of cavities. Having your wisdom teeth treated by an affordable dentist can prevent complications and improve your overall oral health.
Signs of Impacted Wisdom Teeth
Third molars emerging through your gums
Swollen, receding, and bleeding gums
Sensations of pressure and localized oral pain
Bad breath
More often than not, dental extractions are the only solution for dealing with impacted wisdom teeth, especially if infection or severe pain is present. Putting off dental extractions can increase the risk of complications and make recovery time longer. Extractions are usually simple; it takes about an hour and only requires local anesthesia and a few days of recovery time. An affordable dentist or oral surgeon will prescribe pain medicines and antibiotics if needed, and you may need to eat a soft diet for a week or so after the procedure. The following tips can make recovery from wisdom teeth extractions easier.
After the procedure, rest as much as possible
Rinse your mouth gently with warm, salted water
Brush your teeth normally, being careful to avoid the extraction area
Do not drink from a straw
To learn about our family dentistry practice in Peoria, call Maple Shade Dental Group today or make an appointment.
---
Maple Shade Dental Group offers affordable family dentistry and gentle, compassionate dental care in Peoria. With 3 affiliated practices throughout Peoria, our offices are conveniently located with extended hours to meet your needs. At Maple Shade Dental Group, we provide most dental services, from basic preventative care and general dentistry to specialized procedures and complete dental reconstruction. We accept most dental insurance plans and offer affordable financial solutions for any budget. Patient satisfaction is our top priority and we strive to provide the exceptional, affordable dental care and personal touch that lead to lasting relationships. A smiling patient is our greatest reward and we look forward to keeping those smiles healthy, beautiful, and bright. Discover an affordable dentist who truly cares at Maple Shade Dental Group.