Learning to brush teeth doesn't have to be drudgery for kids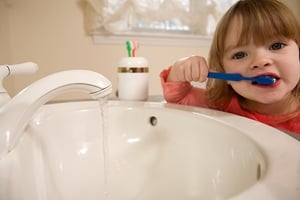 Children don't understand that trips to the dentist office and steady tooth brushing habits will lead to good dental hygiene later in their lives. What they do understand are rewards. Having tooth brushing sessions checked off twice daily on a weekly, bi-weekly or monthly chart will boost the child's confidence with the added bonus of a small reward at the end.
It can be as simple as an hour more of TV or video games or a small outing. But in the long run, setting a small system to get kids into a regular regimen of dental care will pay off in the biggest reward of all – sound, healthy teeth.
Beside rewards, parents should nudge their children into a daily dental routine into less of a chore and a time when they are doing something that's necessary, but enjoyable.
Music and colors
Dentists recommend that people brush their teeth for a minimum of two minutes to get the biggest dental benefit. But for children, two minutes can be an eternity, particularly if they are doing something they dread. Finding a way for youngsters to make teeth brushing a habit that will carry into adulthood isn't easy, but it doesn't have to be drudgery for either the child or the parent.
Bring the iPod into the bathroom for the duration of the morning and nightly brushing. Those two minutes will go by in a flash when a youngster is listening to their favorite entertainers. Whether it's Elmo on a Sesame Street CD for the younger set or Justin Bieber for the family tweens, listening to music will help turn the requirement to brush teeth into one that goes by quickly and painlessly. Change the music selection each day so the child doesn't get bored.
There are toothbrushes with flashing lights, neon colors and in characters that range from popular action heroes to Hello Kitty. In short, there's something for everyone. Make sure the bristles are soft as recommended by family dentists to prevent erosion of tooth enamel.
When it comes to toothpaste, there's as much variety. Children can have grape, bubble gum or berry flavors without compromising on dental effectiveness as long as fluoride is one of the ingredients. Countless studies have shown it eliminates bacteria that can develop around gums as well as plaque build-up on teeth.
A steady routine
Just as children are taught to do their part in household tasks at a young age – feeding the pets, taking out the trash and picking up their toys – they can become accustomed to integrating the tooth brushing routine into their daily home activities.
Very young children will need an adult to monitor their regimen so it doesn't slide into a cursory swab across the inside of the mouth and little else. Teach them to hold the toothbrush at a 45-degree angle and gently brush in a circular  movement that offers the best coverage.
Break the routine into steps, according to WebMD. First brush the outside of the teeth, then work the brush along the inside. Follow that with a quick brush on the tongue – where much bacteria resides – then the top surfaces where chewing takes place and between teeth. Count the steps as they go and children will know when they are half-way and nearly done. For older kids, the regimen will become ingrained.
Until children are old enough to go through their bathroom routines on their own, it doesn't hurt to set up a time when an adult can brush with them in the morning before school or at night before bedtime. By ages seven to nine, children develop the dexterity they need to floss each day. Finishing off with a swish of mouthwash will create a routine that seems like second nature.
To learn about our family dentistry practice in Peoria, call Maple Shade Dental Group today or make an appointment.
---
Maple Shade Dental Group offers affordable family dentistry and gentle, compassionate dental care in Peoria. With 3 affiliated practices throughout Peoria, our offices are conveniently located with extended hours to meet your needs. At Maple Shade Dental Group, we provide most dental services, from basic preventative care and general dentistry to specialized procedures and complete dental reconstruction. We accept most dental insurance plans and offer affordable financial solutions for any budget. Patient satisfaction is our top priority and we strive to provide the exceptional, affordable dental care and personal touch that lead to lasting relationships. A smiling patient is our greatest reward and we look forward to keeping those smiles healthy, beautiful, and bright. Discover an affordable dentist who truly cares at Maple Shade Dental Group.