Posted under:
General
Posted on: November 24, 2020
Invisalign: Frequently Asked Questions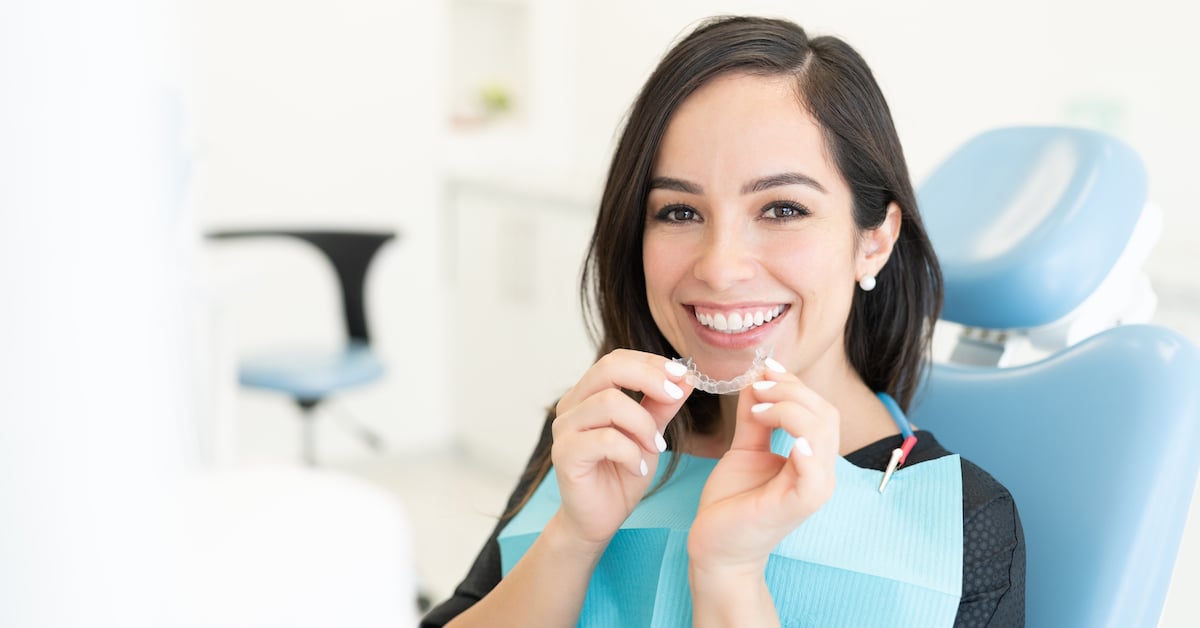 Crooked or misaligned teeth can make you self-conscious about your appearance. If you are afraid to smile because of crooked teeth, Invisalign can be a practical alternative to metal braces. Our dental practice offers Invisalign options that can provide you with less obtrusive correction of misaligned teeth and can promote a healthier and more confident smile for you and your family members.
What Is Invisalign?
Invisalign consists of flexible plastic aligners that slip over your teeth and gradually guide them into place. These aligners straighten teeth by gradually placing pressure on the teeth, causing them to move slowly over time. Patients will move from one set of aligner trays to the next aligner tray until the straightening process is complete.
The Invisalign system is considerably less noticeable than traditional wired braces that typically give a metallic look to your smile. Because this system is much less conspicuous, it is ideally suited for people who interact with others frequently during their work activities, at school or in social situations. Invisalign can provide an outstanding solution for adults interested in enhancing their smile and straightening their teeth.
Is Invisalign Right for You?
Invisalign is not well suited to the needs of younger children because their jaws are still growing and changing, which can make it difficult to formulate the proper series of aligner trays to address their alignment needs. For teenagers and adults with mild-to-moderate misalignments of their permanent teeth, the Invisalign system can be a practical solution for these issues depending on a few factors:
Invisalign should be worn between 20 and 22 hours each day. If you cannot commit to this treatment regimen or are worried that you may forget to wear your Invisalign tray regularly, traditional braces may be a better solution for you.
Metal braces are usually less expensive. If cost is a major concern or if the appearance of metal braces is not important to you, traditional braces may be more appropriate for you or your family members.
If the patient is younger, their teeth and jawbones may still be growing. While Invisalign can still work for these patients, you may require several additional sets of customized trays to adjust to the changing size and configuration of the teeth. This can add up to increased expenses for these orthodontic devices.
Severely misaligned teeth usually require traditional braces to achieve the proper realignment to improve your appearance and your bite appropriately.
Working with our dental team is the best way to manage these issues quickly and effectively. If Invisalign is right for you, our team will work with you to manage the costs and to provide you with the right solutions for your dental care needs.
Understanding the Invisalign Process
Invisalign is a personalized dental care process that begins with your first appointment in our office. We will discuss your needs and preferences with you, along with matters of cost and clearly outline the time needed to complete your Invisalign process.
The next step is to have your dentist take precise molds of your teeth in their current condition. Your dentist will evaluate the misalignment of your teeth and will determine the best course of Invisalign corrections for your needs.
Invisalign consists of multiple aligners that must be used in a precise order to promote the right alignment for your teeth. You will start with one that makes only a minimal change in the position of your teeth. Once this change has been completed, you will move on to the next aligner until your Invisalign teeth straightening process is complete.
The entire process usually takes between one year and 18 months. Depending on how responsive your teeth are to the process and how faithfully you wear your aligners, you could complete the process in more or less time. You will need to schedule regular appointments with our team to determine whether it is time to move to the next stage of the alignment process. These appointments may be scheduled four to six weeks apart. The time needed between appointments will vary depending on the progress of your alignment. We will work with you at every step of the process to promote the best and most practical solutions for your needs.
How Will Invisalign Affect My Daily Activities?
Invisalign must be worn almost all the time. You will need to remove these aligners during meals, when drinking liquids and to brush your teeth. Rinsing your Invisalign aligners in cool water can keep them looking and smelling fresh and beautiful.
Getting accustomed to sleeping in Invisalign can sometimes be difficult. Our office will provide you with detailed instructions on managing your sleep while wearing Invisalign aligners. Most patients get used to the feel of Invisalign fairly quickly and find that it does not disrupt their normal sleep.
Invisalign aligners are not totally invisible. They can be seen up close if someone is looking for them. However, if you want the most unobtrusive solution for straightening crooked teeth, Invisalign is one of the best options for correcting misalignments and improving the beauty of your smile now and in the future.
What Happens After the Invisalign Process Is Complete?
Once your teeth are perfectly aligned, our dental team will assess the stability of your teeth to determine whether you need to wear a retainer on an intermittent basis or for a longer period of time. We will discuss the situation with you to provide you with the most accurate information and the right treatment regimen for you after your Invisalign process is completed.
How Can Our Office Help?
If you are looking for a real solution for your misaligned teeth, our dental team can provide you with practical options that work for your needs and your budget. Invisalign is a practical choice for working adults and teenagers who need a less noticeable way to straighten crooked teeth quickly. Call our office today to make your first appointment. We are here to help you look and feel your best.