How To Handle Your Dentures with Care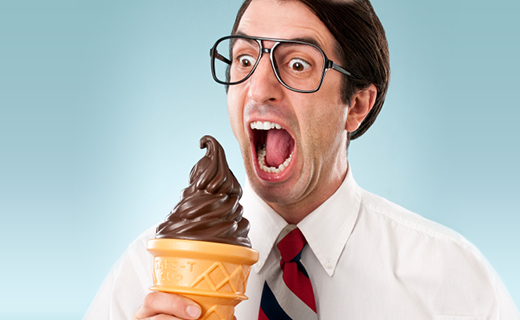 Dentures may not be natural teeth, but they still demand proper cleaning and dental care. Fortunately, it's easy to take care of your dentures with a little time and tenderness.
Proper daily cleaning is a priority with dentures, which need to be gently brushed and rinsed to remove food, stains, and plaque. Use a soft-bristled toothbrush that's specifically made for cleaning dentures and brush each surface. Most toothpaste is too abrasive and can damage your dentures, so use a dishwashing liquid or mild hand soap. You can also use an ultrasonic cleaner, but it's not a substitute for daily brushing. Try to rinse your dentures after each meal so they stay clean between brushings.
Wearing dentures doesn't spare you from good dental care. To remove plaque and increase circulation in your mouth, you still need to brush your gums, tongue, and palate every day before inserting your dentures. If you have a partial denture, you should remove it before brushing your natural teeth. You should also rinse your mouth with salted water every day to help keep your gums clean and healthy.
When cleaning your dentures, you should hold them over a towel or basin of water to avoid dropping and potentially breaking them. Some recommend keeping dentures in a soaking solution or cool water so they stay moist when they're not being worn. This can harm some kinds of dentures, so ask a family dentistry expert at Maple Shade Dental Group for the best way to take care of yours.
To keep your dentures working well, you'll need to visit the dentist regularly. Most dentists advise dental appointments every six months so they can make adjustments to your dentures and check for oral health issues.
Dentures are designed to be comfortable, but it will likely take a few dental visits to make the adjustments needed to get a perfect fit. Be sure to leave alignments and refinements to an expert in family dentistry, since denture repairs aren't do-it-yourself projects. Often, repairs and fitting can be done on the same day, but some corrections may require repairs at a special lab, which takes more time.
Once your dentures fit properly, they'll function and feel like natural teeth—and you may even forget that they're not your own. However, as your jaw and gums change with age, the fit of your dentures will be affected, so you should expect to need a new pair approximately every seven years.
But dentures let you live life with a full set of teeth, so as long as you take care of your dentures, they'll take care of you.
To learn more about dentures from an affordable dentist in Peoria, call Maple Shade Dental Group today or make an appointment.
---
Maple Shade Dental Group offers affordable family dentistry and gentle, compassionate dental care in Peoria. With 3 affiliated practices throughout Peoria, our offices are conveniently located with extended hours to meet your needs. At Maple Shade Dental Group, we provide most dental services, from basic preventative care and general dentistry to specialized procedures and complete dental reconstruction. We accept most dental insurance plans and offer affordable financial solutions for any budget. Patient satisfaction is our top priority and we strive to provide the exceptional, affordable dental care and personal touch that lead to lasting relationships. A smiling patient is our greatest reward and we look forward to keeping those smiles healthy, beautiful, and bright. Discover an affordable dentist who truly cares at Maple Shade Dental Group.