How can you tell if you have tooth decay?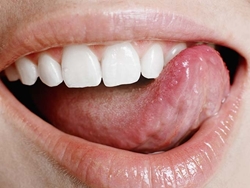 It can be difficult to know if you have tooth decay. While you may assume that if you have something wrong with your teeth then they will hurt, the truth is there can be something seriously wrong with your mouth and you may not even feel anything at all. This is why it's important for you to visit the dentist regularly, because he or she will be able to detect problems with your teeth long before you can.
The truth is, once you start to feel pain in your mouth then chances are the problem has existed for quite some time now. For example, you can be wearing away at your tooth enamel for years by brushing too hard and consuming highly acidic foods and drinks, but your teeth won't feel pain due to this until you've started to affect the layer of your tooth underneath the enamel, known as dentin. At this point, you may have permanently damaged your teeth.
While brushing and flossing regularly are good ways to prevent harming your teeth, it's still important to go to the dentist at least twice a year so he or she can check for serious problems.