Posted under:
General
Posted on: January 6, 2015
Help, It's My Braces! How to Handle an Orthodontic Dental Emergency.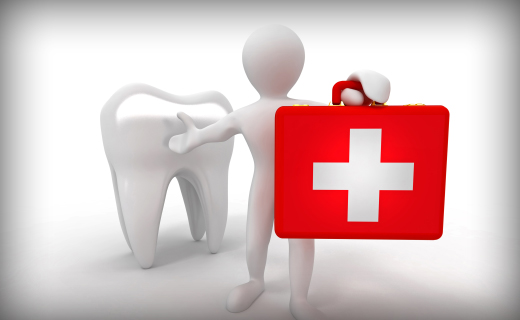 Because your braces have many small parts, occasional problems are likely to occur. Components may loosen, break or make your gums and cheeks uncomfortable. Wires may poke your mouth. Although mishaps involving braces usually don't require emergency dental treatment, it helps to know how to handle them until you can make an appointment with your orthodontist during regular office hours. If a severe allergic reaction, puncture wound or profuse bleeding occurs, contact an emergency dentist, or go to a hospital emergency room immediately.
For most other common incidents, the following five tips can help:
Cheek and Lip Irritation – Roll a small piece of dental wax into a ball, flatten it, and use it to cover the irritated area. If you don't have any wax with you when you need it, try using a small piece of wet cotton or a piece of orange peel instead. If irritation persists, see your orthodontist.
Mouth DiscomfortWhile it may not be a true dental emergency, discomfort or sores caused by braces can make it difficult to eat. Try a soft food diet for a few days until you can see your orthodontist for adjustments. Over-the-counter pain medications and over-the-counter topical anesthetics containing benzocaine may help alleviate mouth sores on the inner cheeks, lips, and tongue.
Loose or Broken Brackets – Brackets are held in place by adhesive, but trauma can cause them to loosen or break.  For a temporary fix, slide the bracket along with tweezers until it is between two teeth. Rotate it back to its normal position, and then slide it back to the center of the appropriate tooth. In all cases, contact your orthodontist as soon as possible.
Loose or Poking Ligature Wires or Bands – Remove loose ligature wires with tweezers. Wires that are sticking out and into the lip but are not loose can be bent back gently with a cotton swab. If a ligature band comes off, try to replace it with tweezers.
Poking Wires – Press the wire flat against your tooth using a sterile cotton swab. If this doesn't provide comfort, cover it with dental wax. As a last resort, clip the offending wire, and see your orthodontist.
To get the dental care you deserve from an affordable dentist in Peoria, call Maple Shade Dental Group today or make an appointment.
---
Maple Shade Dental Group offers affordable family dentistry and gentle, compassionate dental care in Peoria. With 3 affiliated practices throughout Peoria, our offices are conveniently located with extended hours to meet your needs. At Maple Shade Dental Group, we provide most dental services, from basic preventative care and general dentistry to specialized procedures and complete dental reconstruction. We accept most dental insurance plans and offer affordable financial solutions for any budget. Patient satisfaction is our top priority and we strive to provide the exceptional, affordable dental care and personal touch that lead to lasting relationships. A smiling patient is our greatest reward and we look forward to keeping those smiles healthy, beautiful, and bright. Discover an affordable dentist who truly cares at Maple Shade Dental Group.