Posted under:
General
Posted on: July 7, 2015
Find Relief from Teeth Grinding Symptoms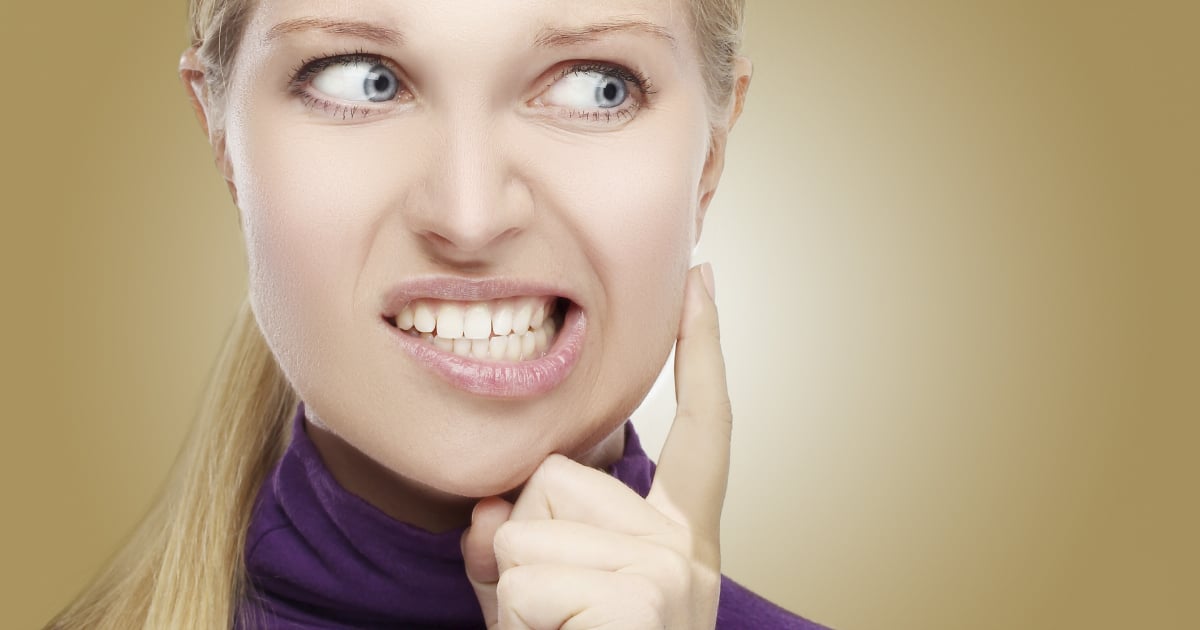 Bruxism, or teeth grinding, is the habit of tightly clenching your teeth or sliding them back and forth forcefully. You may clench and grind your teeth without being aware of the behavior. It can occur during sleep or when you are awake. Stress often triggers teeth clenching and grinding. Whether or not it causes symptoms depends on your stress levels, how tightly you clench and grind, your sleeping habits, diet, and posture. Misaligned teeth can sometimes contribute to the problem. Over time, bruxism can lead to tooth damage and problems with your jaw.
Symptoms of Teeth Clenching and Teeth Grinding
Clenching and grinding your teeth places intense pressure on the muscles and other tissues around your jaw. Besides waking sleeping partners and wearing down teeth, it can lead to temporomandibular joint (TMJ) syndrome. Common symptoms associated with tooth grinding include the following.
Anxiety, depression, and tension
Sensitive teeth
Ear pain or fullness
Jaw tenderness or pain
Headache
Eating disorders
Insomnia
Teeth Clenching and Teeth Grinding Treatment Options
The following tips can relieve pain and help prevent damage to teeth caused by tooth grinding.
Avoid eating hard or tough foods like nuts or steak.
Stay hydrated.
Apply moist heat or ice to painful jaw muscles.
Don't chew gum.
Get at least eight hours of sleep every night.
Deliberately relax your face and jaw muscles throughout the day.
Try massage therapy for your face, neck, back, and shoulders.
Ask your doctor about physical therapy.
Reduce stress-related bruxism with relaxation techniques, biofeedback, self-hypnosis, or cognitive therapy.
Seek professional help. Your dentist can create a custom mouth guard or splint to reduce the damage caused by tooth grinding, or evaluate your jaw and teeth for orthodontic treatment.
Surgery is recommended in severe cases and only as a last resort.
Bruxism Prognosis and Complications
Although it is not a dangerous condition, teeth grinding can lead to permanent tooth damage and chronic jaw problems. It can also indirectly cause complications such as fractured teeth, receding gums, eating disorders, and bone loss. If your symptoms do not improve with self-care, or you have trouble eating or opening your mouth, make an appointment with your dentist immediately for a full evaluation.
To get the dental care you deserve from an affordable dentist in Peoria, call Maple Shade Dental Group today or make an appointment.
---
Maple Shade Dental Group offers affordable family dentistry and gentle, compassionate dental care in Peoria. With 3 affiliated practices throughout Peoria, our offices are conveniently located with extended hours to meet your needs. At Maple Shade Dental Group, we provide most dental services, from basic preventative care and general dentistry to specialized procedures and complete dental reconstruction. We accept most dental insurance plans and offer affordable financial solutions for any budget. Patient satisfaction is our top priority and we strive to provide the exceptional, affordable dental care and personal touch that lead to lasting relationships. A smiling patient is our greatest reward and we look forward to keeping those smiles healthy, beautiful, and bright. Discover an affordable dentist who truly cares at Maple Shade Dental Group.