Easy Tips for Eliminating Dental Fears in Children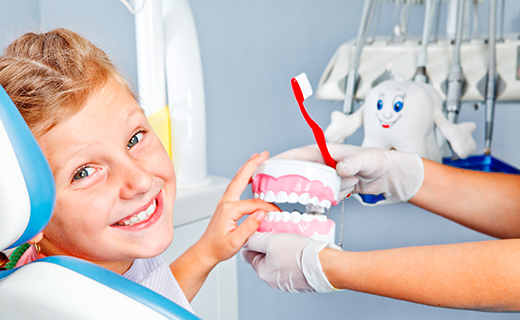 As an adult, you know that skipping dental visits simply isn't an option—or at least it shouldn't be. Good dental care is imperative to achieving and maintaining optimal health throughout the body. Regular visits to your family dentistry practitioner at least every six months protect you and your family against cavities and dangerous dental abscesses. It also ensures that visits to your dentist in Peoria will be simple check-ups rather than painful procedures to correct unseen dental issues. It is essential to make trips to the dentist a welcome experience for lifelong health. Follow these six tips to make each visit to the dentist a happy, healthy experience for your child, right from the start.
1.    Start promoting optimal dental care early by taking your child to your dentist in Peoria early—around the age of 1. This will give your child an opportunity to get to know the family dentistry office and begin to become familiar with the experience.
2.    Go to a pediatric dentist for your child's first dentist experience. Pediatric dentistry experts provide a child-friendly office and can help to teach your child proper dental care habits and alleviate any dental fears. Pediatric dentists are a good option for children who are especially nervous, shy, or have special needs.
3.    Role-playing the dental experience can prepare your child for a visit to the dentist. You can prepare your child for the experience by asking them to "open wide" and then count their teeth. Then, your child can play the role of the dentist, counting your teeth.
4.    Reading about going to the dentist can alleviate your child's dental fears. There are many books to help children learn about family dentistry and proper dental care. If you read these books with your children at an early age, you can help to prepare them for a visit to the dentist.
5.    Share your experience at the dentist.  To help your child become familiar with the dentist's office, take him or her with you to your dentist appointment. By observing your experience, your child's dental fears can be reduced.
6.    Don't share your own dental fears. Even if you have dental fears, don't let your child know. Relaying negative experiences or showing anxiety about your visits to the family dentistry office can easily influence your child and cause dental fears.
A family dentistry office with a caring staff and gentle, affordable dentist can improve your child's experience and help you promote the benefits of good dental care habits to your child.
To get the dental care you deserve from an affordable dentist in Peoria, call Maple Shade Dental Group today or make an appointment.
---
Maple Shade Dental Group offers affordable family dentistry and gentle, compassionate dental care in Peoria. With 3 affiliated practices throughout Peoria, our offices are conveniently located with extended hours to meet your needs. At Maple Shade Dental Group, we provide most dental services, from basic preventative care and general dentistry to specialized procedures and complete dental reconstruction. We accept most dental insurance plans and offer affordable financial solutions for any budget. Patient satisfaction is our top priority and we strive to provide the exceptional, affordable dental care and personal touch that lead to lasting relationships. A smiling patient is our greatest reward and we look forward to keeping those smiles healthy, beautiful, and bright. Discover an affordable dentist who truly cares at Maple Shade Dental Group.