Posted under:
General
Posted on: May 12, 2015
Anorexia and Bulimia Effects on Teeth and Health in Teens and Children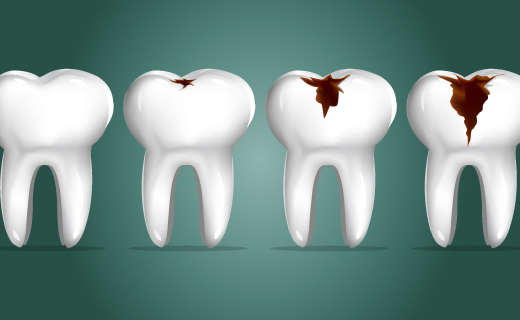 If your child has developed unhealthy eating behaviors, you're not alone. Millions of Americans suffer from eating disorders, and many of those are children and teens. Two relatively common and dangerous eating disorders are anorexia nervosa and bulimia nervosa. If your child is anorexic, he or she may refuse to eat enough calories to provide adequate nutritional support. You may also notice a preoccupation with appearance and weight. A bulimic child will eat large amounts of food and then purge by vomiting or taking laxatives to prevent weight gain. Besides causing serious medical problems, an eating disorder can have negative effects on your child's oral health.
Anorexia and Bulimia Effects on Teeth – Bulimia nervosa, anorexia nervosa, and teeth problems often go hand in hand. Dental symptoms are related to malnutrition from self-starvation and frequent vomiting, which exposes tooth enamel to powerful stomach acids, causing erosion of teeth. Common signs of eating disorders that your child's dentist may find include the following.
Translucent teeth
Acid erosion of teeth
Altered length or shape of teeth
Tooth sensitivity to hot or cold
Enlarged salivary glands
Dry, cracked lips
Mouth sores that bleed easily
Malnutrition and Oral Health – If your child has anorexia nervosa, erosion of teeth and mouth sores may not be the only problems. A severe lack of vitamins, minerals, and essential amino acids can produce multiple oral health issues due to impairment of immune response, epithelial tissue integrity, collagen production, and calcification of bone. Malnutrition also leads to periodontal disease such as gingivitis and periodontitis. Loose teeth, pale or bluish-red gums, burning or swollen tongue, difficulty swallowing, and inflammation of the corners of the mouth may be due to anorexia-induced anemia.
Bulimia Nervosa, Anorexia Nervosa and Teeth Problems – It can be difficult for your child's dentist to approach the subject of eating disorders. Many children keep their behaviors a secret. However, leading questions that focus on dental issues may help children to be more honest. If your dentist suspects that your child has an eating disorder, it's important to get professional medical and psychiatric treatment for him or her as soon as possible. Prompt treatment may prevent serious medical complications as well as damaging anorexia and bulimia effects on teeth.
To get the dental care you deserve from an affordable dentist in Peoria, call Maple Shade Dental Group today or make an appointment.
---
Maple Shade Dental Group offers affordable family dentistry and gentle, compassionate dental care in Peoria. With 3 affiliated practices throughout Peoria, our offices are conveniently located with extended hours to meet your needs. At Maple Shade Dental Group, we provide most dental services, from basic preventative care and general dentistry to specialized procedures and complete dental reconstruction. We accept most dental insurance plans and offer affordable financial solutions for any budget. Patient satisfaction is our top priority and we strive to provide the exceptional, affordable dental care and personal touch that lead to lasting relationships. A smiling patient is our greatest reward and we look forward to keeping those smiles healthy, beautiful, and bright. Discover an affordable dentist who truly cares at Maple Shade Dental Group.