Posted under:
General
Posted on: November 25, 2014
2 Ways to Whiten Your Smile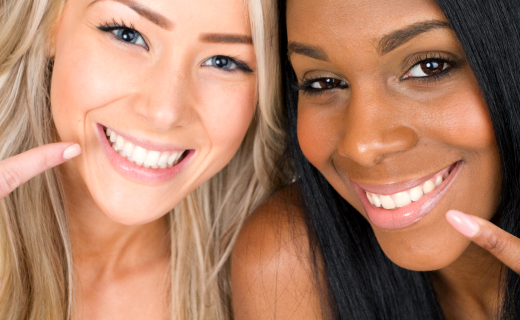 According to a survey conducted by the American Academy of Cosmetic Dentistry, many people believe that a gorgeous smile can be your ticket to greater self-confidence, a better social life, and even improved financial success. Almost all adults consider their smiles important assets, and as many as 75 percent also feel that their smiles can affect their careers. The most common smile improvements requested are teeth whitening procedures, and they're also the most affordable and simple way to obtain a winning smile.
While your baby teeth were probably whiter than your adult teeth, as you age, they become darker or yellower and may accumulate stains. This may be why brighter, whiter teeth make people seem younger. The primary causes of external tooth discoloration are genetics, certain foods, tobacco use, and normal aging. Foods associated with tooth yellowing include tea, coffee, carrots, and oranges. Internal tooth discoloration may be caused by exposure to high levels of fluoride, tetracycline use, developmental disorders, root canals, tooth decay, dental restorations, and injuries.
The two most common ways to whiten your teeth are through over-the-counter whitening products and professional, in-office teeth bleaching whitening treatments:
1.     At-Home Teeth Whitening
Do-it-yourself treatment kits are available without a prescription in retail stores. These include teeth whitening strips, paint-on gel formulas, and whitening oral care products like toothpastes or gums. They're typically safe, but it's best to consult your dentist or hygienist before use. Professional teeth whitening procedures are performed in a dental office and involve stronger and more effective whitening agents. They can often transform the look of your smile in one visit. The effects of an in-office treatment may last for a year or longer with maintenance. 


2.     Professional Teeth Whitening
When you choose an in-office treatment, you enjoy several advantages. Professional supervision makes the teeth whitening process safer and more effective. Your dentist can ensure that your mouth trays are fitted properly to avoid leaking. If you suffer from tooth sensitivity as a result of whitening agents, your dentist is best equipped to relieve your symptoms, and prevent worsening sensitivity without discontinuing treatment. Talk to your dentist about teeth whitening options today, and give your smile new life.
To get the dental care you deserve from an affordable dentist in Peoria, call Maple Shade Dental Group today or make an appointment.
---
Maple Shade Dental Group offers affordable family dentistry and gentle, compassionate dental care in Peoria. With 3 affiliated practices throughout Peoria, our offices are conveniently located with extended hours to meet your needs. At Maple Shade Dental Group, we provide most dental services, from basic preventative care and general dentistry to specialized procedures and complete dental reconstruction. We accept most dental insurance plans and offer affordable financial solutions for any budget. Patient satisfaction is our top priority and we strive to provide the exceptional, affordable dental care and personal touch that lead to lasting relationships. A smiling patient is our greatest reward and we look forward to keeping those smiles healthy, beautiful, and bright. Discover an affordable dentist who truly cares at Maple Shade Dental Group.